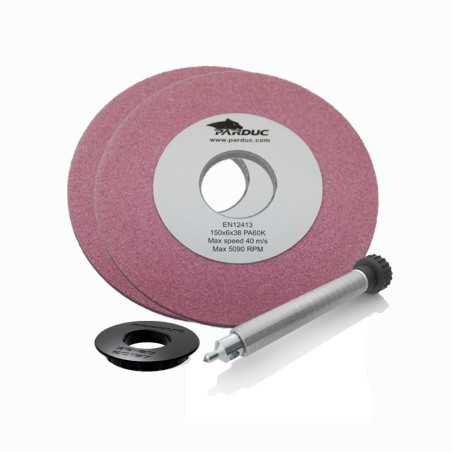  
Pro sharp compatible sharpening pack
Pack contain Diamond dresser with 0,5 carat synthetic diamond, fitting ring 38mm to 20mm and two Parduc grinding wheels 150x6x38 PA60K
Pack contains: High-quality accessory diamond dresser with a 0.5 carat synthetic diamond head, as well as two sharpening discs Parduc sharpening machines and one fitting ring. These consumables are not original Pro Sharp spare parts, but are accessory parts compatible with Pro Sharp machines
The Parduc diamond dresser comes with a replaceable Parduc diamond head. When the diamond dresser run out, you only need to replace the head, not the entire dresser. This brings significant cost savings in regular use.
For best results, it is recommended to use Accu-Lube sharpening wax the last time you sharpen. With Accu-Lube, the sharpening temperature decreases and the sharpening result becomes even better.
Dimensions of the diamond pin:
L1 = 70mm
L2 = 83mm
D = m10x1
Grinding wheel dimensions:
150x6x38 - PA60K
With the supplied fitting ring it is possible to use Parduc and Tyrolit grinding wheels in Pro Sharp skate sharpening machines
The grinding ring is a nesessary part when using Parduc or Tyrolit blades, for example in a Pro sharp AS2001 sharpening machine.